Circuit training is an interval training technique that minimizes rest between sets and exercises. It can consist of only weight training or alternating intervals of weight training and brief, high intensity cardiovascular exercise. In a circuit type of weight training program, each exercise is done in succession with minimal rest between exercises. Instead of resting between sets of an exercise, you do one set of all exercises in a row, return to the first exercise and begin again. This allows you to optimize your time in the gym by minimizing the amount of time you spend resting.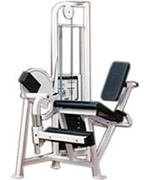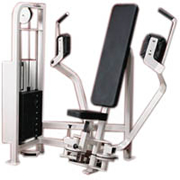 Shahin incorporates circuit training into its Aerobics, and Cardio Kickboxing classes. Because circuit training with machines and weights is an independent activity, many people who are just starting out quickly lose the drive and discipline to push themselves and take their exercise regimen to the next level. Fortunately, Shahin has Fitness Professionals who can work with you to design a training schedule that will help you reach your fitness goals.
Below is a list of the more popular circuit training exercises at Shahin and the muscle or muscle group the exercise is designed to work. With any exercise, it's best to design a routine that works for you and keeps your end goals in mind.
Target = The primary muscle intended for exercise.
Synergist = A muscle that assists another muscle to accomplish a movement.
Leg Extension
Target: Quadriceps
Synergist: None
Seated Leg Curl
Target: Hamstring
Synergists: Gastrocnemius, gracilis, sartorius
Leg Press
Target: Gluteus maximus
Synergists: Quadriceps, adductor agnus, soleus
Chest Press
Target: Pectoralis major,
Synergists: Sternal, clavicular, deltoid, anterior, triceps brachii
Incline Chest Press
Target: Pectoralis major, clavicular
Synergists: Deltoid, anterior triceps, brachii
Pec Dec (Fly)
Target: Pectoralis major, sternal
Synergists: Pectoralis major, clavicular, deltoid, anterior

Rear Deltoid
Target: Deltoid, posterior
Synergists: Infraspinatus, teres minor, deltoid, lateral trapezius, middle trapezius, lower rhomboids

Back Extension
Target: Erector spinae
Synergists: Gluteus maximus, adductor magnus, hamstrings

Shoulder Press
Target: Deltoid, anterior
Synergists: Pectoralis major, clavicular, triceps brachii, deltoid, lateral trapezius, middle trapezius, lower serratus anterior, inferior digitations
Arm (Bicep) Curl
Target: Brachialis
Synergists: Biceps brachii, brachioradialis
Calf Raise
Target: Gastrocnemius
Synergist: Soleus
Inner Thigh (Abductor)
Target: Adductors, hip
Synergists: Pectineus, gracilis

Outer Thigh (Adductor)
Target: Adductor longus
Synergists: Adductor brevis, adductor magnus
Abdominal Crunch
Target: Rectus abdominis
Synergist: Obliques