This class is designed for moms and their under-school-aged children. This class is designed to help children become accustomed to and enjoy the water. This is a first necessary step toward learning to swim. Although supervised, it is the mothers themselves that will play with their children in the water with specially designed activities suited for this age group. All children must be toilet trained.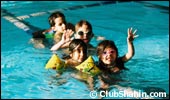 At Shahin we offer our award winning Children's Kickboxing Program. The classes are based on developing children's motor skills and teaching each child basic kickboxing techniques. Kickboxing classes aid in developing self-confidence, self-discipline and self-defense in the students and help them in all aspects of life. Shahin students excel in school and at home, becoming respectful persons and adults. Our courses are available for children of all ages.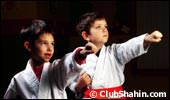 When it comes to a football education, Shahin FC is the equivalent of Sharif University or Shahid Beheshti.
Look at the list of players who have graduated with honours from Shahin: Jafar Kashani, Homayoon Behzadi, Hossein Kalani, Mohammad Ziaie, Amir Ghaleh Noei, Parviz Dehdari.
While other clubs have increasingly focused solely on football, Shahin has continued its strong tradition of encouraging a wider range of physical education and culture. Our belief is to instill confidence, integrity, and trust in our students.