Aerobics classes are a specialized form of exercise aimed at strengthening the body's cardiovascular system without overly stressing any particular part of the body. The class is conducted in an exciting setting set to music and is a very attractive form of exercise. It is great for those that find a jog, or cycling to be mundane and overly repetitive. The classes are diverse and work all the major muscle groups while still giving you the benefits of a cardio workout.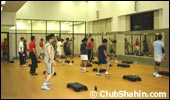 Kickboxing is a popular revolutionary training program for men. Kickboxing classes are high energy, explosive, exciting, and motivating!! You will tighten, tone and firm your body while building a positive self-image, increasing your self-confidence, and reducing your stress level. You will also learn how to defend yourself in any situation.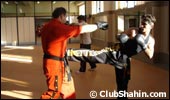 Cardio Kickboxing classes are non-contact and they take the best part of a cardio workout (music, excitement, and energy) and mix it with the best parts of a karate / kickboxing class (self-defense techniques like jabbing, kicking, punching and blocking). The result is a training system that will tone and tighten your body while having fun.